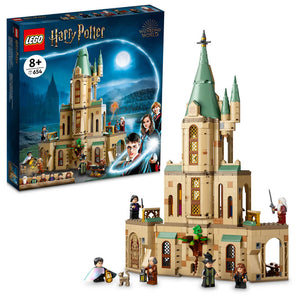 Number 76402
Harry Potter theme
Ages 8+
654 pieces
Released 1 July, 2022
Retired 31 December, 2022
RRP $149.99
You'll find magic and adventure in every room at Hogwarts, with Harry, Hermione, Dumbledore, Snape, Filch and Madam Pince. Check out the Sorting Hat and the Sword of Gryffindor. In Dumbledore's Office, the Pensieve reveals hidden memories and baby Fawkes rises from the ashes. Harry uses his Invisibility Cloak to secretly visit the restricted section of the library, where books come alive!
Hogwarts magic in the restricted section of the library and Dumbledore's Office
6 minifigures include Harry Potter, Hermione Granger, Dumbledore and Snape
Kids can use Harry's Invisibility Cloak, the Pensieve, the Sorting Hat and more
A magical birthday, Christmas or any-day gift for Harry Potter fans aged 8 and up
This multistorey set combines several areas, each designed to inspire role play
One of many modular sets that combine to create a complete Hogwarts Castle
Free LEGO Building Instructions app lets kids zoom and rotate as they build
Part of an extensive range of LEGO Harry Potter playsets
LEGO components fulfil stringent industry quality standards
LEGO sets satisfy rigorous global safety standards
Weight: 1.03 kg
EAN: 5702017153438
Box Length: 70.5 mm
Box Width: 378 mm
Box Height: 354 mm
You might also like