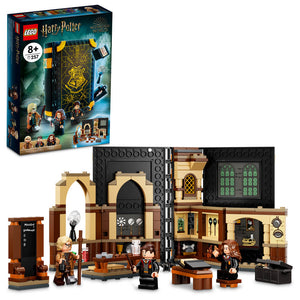 Number 76397
Harry Potter theme
Ages 8+
257 pieces
Released 1 March, 2022
Retired 31 December, 2022
RRP $54.99
Unlock your LEGO playbook and enter Professor Mad-Eye Moody's Defence Against the Dark Arts classroom at Hogwarts! Join Hermione Granger and Neville Longbottom as they practise casting spells, experiment with enchanting equipment, and discover what – or who – is trapped in the trunk! When the lesson ends, close the cover to take the set with you wherever you go.
This LEGO playbook opens to reveal a Hogwarts Defence Against the Dark Arts classroom
Includes Mad-Eye Moody, Hermione Granger and Neville Longbottom minifigures
Kids open the cover and instantly enter Professor Moody's magical lesson
The set features authentic details that kids will recognize from the movies
Great gift for Harry Potter fans aged 8 and up
Packs away quickly, easy to carry and simple to store neatly on a shelf
Kids can collect and connect more classroom sets to expand their creative play
LEGO Harry Potter playsets put magical movie adventures into kids' hands
LEGO components fulfil stringent industry quality standards
LEGO sets satisfy rigorous global safety standards
Weight: 0.36 kg
EAN: 5702017153384
Box Length: 61 mm
Box Width: 262 mm
Box Height: 191 mm
You might also like