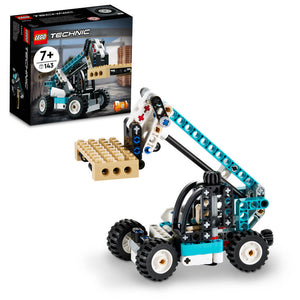 Number 42133
Technic theme
Ages 7+
143 pieces
Released 1 March, 2022
Retired 31 December, 2022
RRP $17.99
The telehandler is an all-round hero on the construction site and is the perfect machine for lifting and moving heavy loads. Now you can build your own realistic version with this LEGO Technic Telehandler. Have lots of fun building and exploring all of the Telehandler's neat functions. Then, for a new challenge, rebuild your model into a cool Tow Truck with steering and a lifting crane arm.
LEGO Technic Telehandler 42133 2-in-1 toy for kids
Includes realistic details like the steering, lifting arm and tilting forks
Use the Telehandler to lift and move the included pallet accessory
Telehandler rebuilds into a Tow Truck with steering and a lifting crane arm
Give as a treat for kids who love construction toys and tow truck models
Telehandler model measures over 3 in. (8 cm) high and 6.5 in. (17 cm) long
LEGO Technic offers a building challenge for young LEGO fans
LEGO Technic components meet exacting industry quality standards
LEGO Technic components meet strict global safety standards
Weight: 0.188 kg
EAN: 5702017116914
Box Length: 71 mm
Box Width: 141 mm
Box Height: 157 mm
You might also like