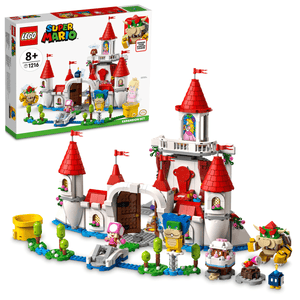 Number 71408
Super Mario theme
Ages 8+
1,216 pieces
Released 1 August, 2022
Retired 31 December, 2022
RRP $209.99
Enjoy lots of fun challenges with Peach's Castle! Knock Ludwig off the cloud, fix the broken bridge and greet Toadette. Look for the Action Tag hidden behind the painting to get a bonus for defeating a Bob-omb. Eat cake (but beware of the Goomba inside!) and grab the purple fruit. Hop on the Time Block then find Bowser hiding behind the throne and flip him over to defeat him!
Highly detailed, challenge-packed Peach's Castle Expansion Set
5 LEGO Super Mario figures: Bowser, Ludwig, Toadette, a Goomba and a Bob-omb
Features a throne room with a spinning wall to reveal Bowser
Birthday or Christmas gift idea for trendsetting kids aged 8 and over
This modular set can be combined with other LEGO Super Mario sets
A LEGO Super Mario Starter Course (71360, 71387 or 71403) is required for play
Find building instructions, creative tips and more on theLEGO Super Mario app
LEGO Super Mario toy playsets offer unlimited fun challenges
Premium-quality LEGO components connect simply and securely for robust builds
LEGO bricks and pieces satisfy strict global safety standards
Weight: 1.54 kg
EAN: 5702017155289
Box Length: 94 mm
Box Width: 378 mm
Box Height: 480 mm
You might also like