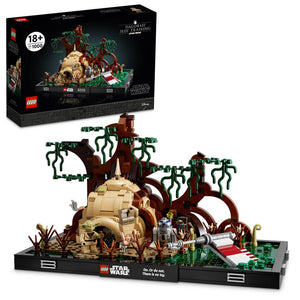 Number 75330
Star Wars theme
Ages 18+
1,000 pieces
Released 26 April, 2022
Retired 31 December, 2022
RRP $149.99
Do. Or do not build. There is no try. Take time out and focus like Jedi Master Yoda to recreate the classic Jedi training scene from Star Wars: The Empire Strikes Back. Build Yoda's swamp-side hut on planet Dagobah, and the wing of Luke Skywalker's sunken X-wing. Add the Luke Skywalker and Yoda LEGO minifigures, plus faithful droid R2-D2 and attach the plaque to complete a striking display piece.
Detailed Dagobah Jedi Training Diorama build-and-display model for adults
Luke Skywalker and Yoda LEGO minifigures, plus a LEGO R2-D2 droid figure
Build Yoda's hut, the Dagobah swamp environment and the wing of Luke's X-wing
Display plaque with the words: "Do. Or do not. There is no try" as said by Yoda
Part of a collectible series of LEGO Star Wars dioramas
Fun gift idea for creative adult fans of the classic Star Wars trilogy
Step-by-step instructions help you build with Yoda-like confidence
LEGO Star Wars sets for adults offer a creative way to relax and recharge
High-quality LEGO bricks are consistent, compatible and connect securely
LEGO bricks and pieces comply with strict global safety standards
Weight: 1.095 kg
EAN: 5702017155562
Box Length: 94 mm
Box Width: 262 mm
Box Height: 382 mm
You might also like