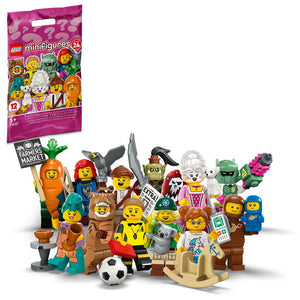 Number 71037
Ages 5+
8 pieces
Released 1 February, 2023
Retired 30 April, 2023
RRP $5.99
Imagine all the adventures you can play out with Series 24 of the LEGO Minifigures bags! There are 12 characters, including Football Referee, T-Rex Costume Fan and Potter, and each one comes with a cool accessory. They make a great addition to your minifigures collection, allowing you to proudly display them or add to existing playsets for extra fun. What will you find in your LEGO mystery bag?
1 of 12 collectible minifigures to open a world of exciting adventures
Boost a LEGO fan's minifigure collection with 1 of 12 characters
Minifigures encourage creative play for children aged 5 and over
LEGO minifigure blind bags make the perfect treat for kids and collectors
Since 1958, LEGO bricks have been made from high-quality materials
LEGO bricks meet stringent global safety standards
Weight: 0.012 kg
EAN: 5702017417660
Box Length: 6.5 mm
Box Width: 150 mm
Box Height: 95 mm
You might also like