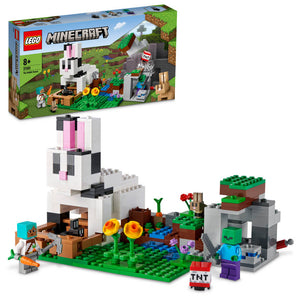 Number 21181
Minecraft theme
Ages 8+
340 pieces
Released 1 February, 2022
Retired 31 December, 2022
RRP $59.99
Build a giant ranch to care for your Minecraft rabbits. The open back and lift-off roof make it easy to arrange the furniture and have lots of fun inside. Outside there's a farm where you can grow food for the rabbits, who jump with excitement as you pick the carrots. Nearby is a cave – the sort of cave where zombies hide from the sun. Do you dare look inside? Better take your sword!
This versatile LEGO Minecraft set is full to the ears with play possibilities
Includes Minecraft characters the tamer, 2 rabbits and a zombie
Play includes caring for rabbits, growing carrots and battling a zombie
Ideal gift for Minecraft players and rabbit lovers aged 8 and up
Endlessly reconfigurable and combines easily with other sets
LEGO Minecraft sets give players a hands-on way to enjoy their favourite game
LEGO components fulfil stringent industry quality standards
LEGO sets satisfy rigorous global safety standards
Weight: 0.555 kg
EAN: 5702017156606
Box Length: 59 mm
Box Width: 191 mm
Box Height: 354 mm
You might also like