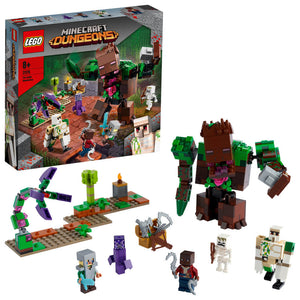 Number 21176
Minecraft theme
Ages 8+
489 pieces
Released 1 July, 2021
Retired 31 December, 2021
RRP $69.99
The Jungle Abomination is a big, brawling beast – and it's coming your way! This living mix of logs, vines, and stone has a movable head, an opening mouth and an arm made for crushing. Will it spot the jungle explorer and archaeologist? Will the enchanted Creeper and skeleton get them first? Or will the predatory plant with the grabbing petals capture them all? Only you can decide.
LEGO Minecraft Jungle Abomination with a host of cool characters and features.
Includes a skeleton, explorer, archaeologist, enchanted Creeper and iron golem.
The posable Jungle Abomination has movable arms, head, mouth, legs and waist.
Something special for the Minecraft player in your life. Cool gift for ages 8+.
Perfect for hands-on, imaginative play and creating impressive displays.
Includes separate baseplates for the key elements to maximize customizability.
LEGO Minecraft sets give players a new way to enjoy their favourite game.
LEGO building kits meet strict industry quality standards.
LEGO components meet demanding global safety standards.
Weight: 0.52 kg
EAN: 5702017035949
Box Length: 59 mm
Box Width: 262 mm
Box Height: 282 mm
You might also like