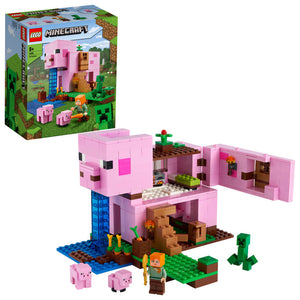 Number 21170
Minecraft theme
Ages 8
490 pieces
Released 1 January, 2021
Retired 31 December, 2022
RRP $89.99
Use your Minecraft skills to build a house shaped like a giant pig! There's a side that opens to reveal a large room and a lift-off roof that uncovers a smaller room in the pig's head. Explore inside with Alex – but watch out for the Creeper. Fancy a redesign? Move the head-room somewhere else. Want a complete redesign? Use the explosion function to blast you model to pieces!
A Minecraft pig house playset, brought to life with versatile LEGO bricks.
Includes popular character Alex, an iconic Creeper, 2 pigs, plus accessories.
Kids use Minecraft skills to build the house, escape the Creeper and more.
Great gift for kids aged 8 and up wanting to extend their Minecraft gaming.
Perfect size for hands-on creative play and displaying in any kid's room.
Made to last and endlessly reconfigurable.
Combines easily with all other LEGO Minecraft sets for longer-lasting fun.
LEGO components meet the most stringent quality standards.
LEGO bricks and pieces satisfy rigorous safety standards.
Weight: 0.864 kg
EAN: 5702016913880
Box Length: 124 mm
Box Width: 222 mm
Box Height: 262 mm
You might also like