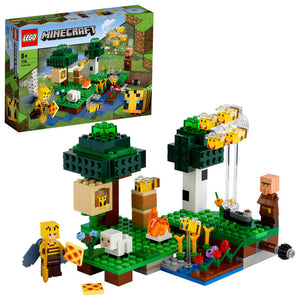 Number 21165
Minecraft theme
Ages 8+
238 pieces
Released 1 December, 2020
Retired 31 December, 2022
RRP $39.99
As 4 friendly bees buzz about, helping the flowers and crops to grow, a swarm of 4 angry, red-eyed bees whizzes around the farm, bothering the sheep and the frightened villager. The bees are everywhere – even inside the tree! Can you help the beekeeper, with her elytra wings, and save the villager from a stinging attack?
This bee playset is buzzing with hands-on, role-play possibilities.
Includes a Minecraft beekeeper, villager, baby sheep and 8 bees.
Kids can have fun helping the beekeeper fend off a swarm of angry bees.
Makes a great gift for kids aged 8 and up who play Minecraft or just love bees!
This versatile set lets players build, play, rearrange and play again.
No batteries needed. The hands-on fun is powered solely by kids' imaginations!
Simple, printed instructions let kids build and play without delay.
LEGO Minecraft brings the popular online gaming fun into the real world.
All LEGO building sets meet the highest industry quality standards.
LEGO bricks and pieces are absolutely safe for kids to play with.
Weight: 0.365 kg
EAN: 5702016913774
Box Length: 61 mm
Box Width: 191 mm
Box Height: 262 mm
You might also like