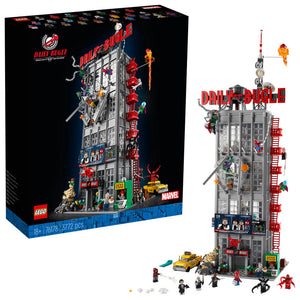 Number 76178
Marvel theme
Ages 18+
3,772 pieces
Released 1 January, 2022
Retired 31 December, 2022
RRP $569.99
The iconic Daily Bugle office block provides the backdrop for classic comic-book action featuring an all-star cast of Marvel's most celebrated heroes and villains. Bursting with details and spectacular scenes involving 25 classic characters from the Marvel Universe, this 3,772-piece building, measuring over 32 in. (82 cm) high, is the ultimate build-and-display project for any Marvel enthusiast.
The ultimate build-and-display project for adult Marvel enthusiasts.
The set features 25 minifigures, including Marvel's most celebrated characters.
Indulge your creative construction superpowers with this 3,772-piece model.
A rewarding build-and-display project for adult model-makers and Marvel fans.
The set's authentic details and fun accessories will captivate all who see it.
Challenging and rewarding to build; endlessly satisfying to put on display.
High-quality, easy-to-follow instructions allow building to start immediately.
One of a range of LEGO sets created to enthral adult model-makers.
LEGO building kits meet rigorous industry quality standards.
LEGO components meet stringent global safety standards.
Weight: 4.925 kg
EAN: 5702016912807
Box Length: 170 mm
Box Width: 582 mm
Box Height: 480 mm
You might also like