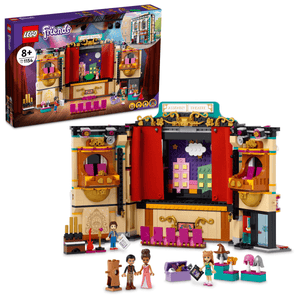 Number 41714
Friends theme
Ages 8+
1,154 pieces
Released 1 August, 2022
Retired 31 December, 2022
RRP $179.99
It's curtains up for Andrea's big break on the stage. She's won a place at Prof. Adrian's famous theatre school. Behind the doors of this beautiful Victorian building you can find Andrea rehearsing. Hand her the helmet as she practices the part of the brave knight. With so many props you can create a play of your own and get the mini-dolls to act it out. Now pull back the curtains – it's showtime!
Theatre playhouse set designed to delight little actors aged 8+
Comes with lots of features for the 4 mini-dolls to explore
Characters attend acting school and learn all about how a theatre works
Realistic details abound, from the lighting rig to the theatre props room
Gift for kids who love drama and a fun building challenge
Measures over 24 cm (9 in.) high, 39 cm (15 in.) wide and 13 cm (5 in.) deep
This set comes with printed and interactive digital building instructions
LEGO Friends toy playsets are designed to nurture kids' passions
LEGO Friends building toys meet stringent quality standards
LEGO Friends sets are safety tested to the max
Weight: 1.982 kg
EAN: 5702017154138
Box Length: 87 mm
Box Width: 378 mm
Box Height: 582 mm
You might also like