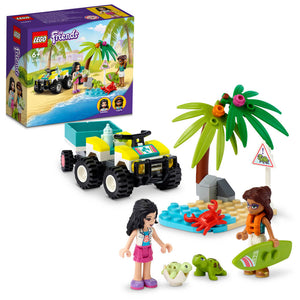 Number 41697
Friends theme
Ages 6+
90 pieces
Released 1 January, 2022
Retired 31 December, 2022
RRP $17.99
Oh no! A snappy crab is heading for the baby turtle. Jump on your surfboard to rescue the baby. Bring it to shore as Emma arrives in her ATV. Check over the hatchling with the medical kit and give it a drink. Help the mother and baby onto the trailer and drive them to a safer beach. Don't forget to put up the warning sign to save other turtles from danger!
Fun rescue toy playset lets kids save the turtle in a fun ATV
Comes with 2 mini-dolls, 3 animal figures, a surfboard and rescue vehicle
Creative gift will appeal to little heroes and animal-loving kids alike
Compact toy makes an impulse gift for little builders aged 6+
Small enough to pop in a bag for anytime play
LEGO Friends rescue toys feature animal toys and everyday heroes
LEGO Friends sets meet strict industry quality standards
LEGO bricks and pieces satisfy stringent child safety standards
Weight: 0.122 kg
EAN: 5702017152714
Box Length: 61 mm
Box Width: 122 mm
Box Height: 141 mm
You might also like