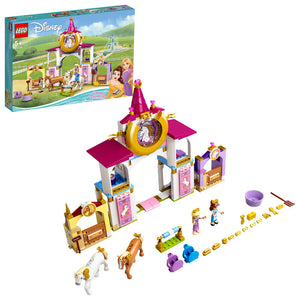 Number 43195
Disney theme
Ages 5+
239 pieces
Released 1 August, 2021
Retired 31 July, 2022
RRP $89.99
Grab your saddle and head down to the royal stables with Disney's Belle and Rapunzel to help take care of Maximus and Philippe! Explore the main stable with its trophy and accessory rooms, and cosy attic space for relaxing. Clean up the horses' stalls, put on their saddles and take off. Oh look, a jump! Wheee! After the ride, unsaddle and brush down the horses, then give them some treats!
Inspire exciting roleplay with 2 beloved Disney Princess mini-doll figures!
Stretch imagination skills with nurturing animal care play or something new.
Play with this set solo or add it to other sets to expand the fun even more.
Appeal to Disney Princess fans with a set that inspires imaginative play.
Ideal for extended play sessions, and looks cool on display once play is done.
Give even younger builders a great experience with digital Instructions PLUS.
Detailed charactersand buildings help build creativity and imagination skills.
LEGO components meet stringent quality standards, so they work every time.
LEGO components meet strict global safety standards.
Weight: 0.586 kg
EAN: 5702016909661
Box Length: 56.5 mm
Box Width: 262 mm
Box Height: 382 mm
You might also like