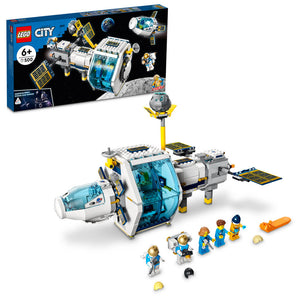 Number 60349
City theme
Ages 6+
500 pieces
Released 1 March, 2022
Retired 31 December, 2022
RRP $109.99
Join the crew aboard the NASA-inspired Lunar Space Station. Take a space walk high above the Moon to check the station's solar panels and power cell. Use the station's arm to retrieve the orbiting meteor and place it into the cargo module for examination in the science lab. Then load up the space capsule with samples to transport back to Earth, before you grab a 'light' snack and float off to bed!
NASA-inspired toy space station playset for kids aged 6 and up
Space station includes a docking space capsule and 5 astronaut minifigures
Interior details include science and botany labs and a sleeping quarters
Can be given as a birthday, holiday or any-other-day gift
Space Station measures over 12.5 in. (32 cm) long and 11 in. (28 cm) wide
LEGO minifigure accessories include camera, wrench, drill, helmets and plants
Includes printed and interactive digital building instructions
Kids develop key skills and confidence as they build and play
LEGO City building toys meet stringent quality standards
LEGO City playsets are safety tested to the max
Weight: 0.98 kg
EAN: 5702017161761
Box Length: 59 mm
Box Width: 282 mm
Box Height: 540 mm
You might also like