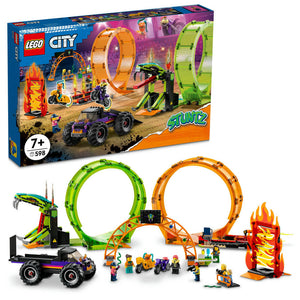 Number 60339
City theme
Ages 7+
598 pieces
Released 1 June, 2022
Retired 31 December, 2022
RRP $259.99
Head over to the Double Loop Stunt Arena for spectacular stunt-show action! Power up your flywheel bike and hit the launch ramp at speed to clear the monster truck and pass through the wall of flames! Loop the loop and escape the snapping snake jaws with a cool wheelie! Then defy gravity again for a perfect exit that ignites the loop of fire. Crowd-thrilling Stuntz action awaits in LEGO City.
Kids can stage real stunt shows and competitions with this LEGO City Stuntz set
Includes 2 loops, wall of flames, monster truck, 2 stunt bikes and 7 minifigures
Kids activate the stunt bike to loop the loop and conquer the wall of flames
Can be given as a birthday, Christmas or any-day gift for kids aged 7 and up
The loop of fire measures over 20 cm (8 in.) high and 34 cm (13.5 in.) deep
Minifigure accessories include an ice lolly, soft drink and a camera
Includes step-by-step building instructions for kids aged 7 and up
LEGO City Stuntz playsets help kids develop creative skills and confidence
All LEGO City building sets meet rigorous quality standards
LEGO City construction toys meet stringent industry safety standards
Weight: 1.47 kg
EAN: 5702017162089
Box Length: 87 mm
Box Width: 378 mm
Box Height: 582 mm
You might also like