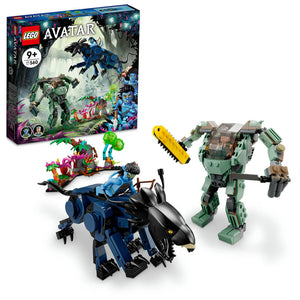 Number 75571
Ages 9+
560 pieces
Released 1 October, 2022
Retired 31 December, 2022
RRP $79.99
Leap on your Thanator and connect with it using your Na'vi kuru, then join Neytiri in her battle against Colonel Quaritch! Dive into action with this awesome LEGO Avatar set and replay their epic final confrontation. Create the rainforest environment with glow-in-the-dark pieces. Place the Colonel in his AMP suit, mount Neytiri on her Thanator and get started. Who will prevail? That's up to you!
Appeal to kids' love of action with iconic characters in this LEGO Avatar set
2 minifigures, 2 buildable figures and a glow-in-the-dark rainforest inspire play
Designed for play and display, this set appeals to kids and film fans
Inspire a kid's passion for nature and the environment with this toy set
Play at home or on the go, with detailed figures and scenery
3 sets of building instructions for a fun activity with family or friends
Gift this set or others (sold separately)to transport a fan to Pandora
LEGO pieces in this set meet exacting quality standards and work every time
This LEGO Avatar action set meets strict safety standards
Weight: 0.58 kg
EAN: 5702016913590
Box Length: 59 mm
Box Width: 262 mm
Box Height: 282 mm
You might also like