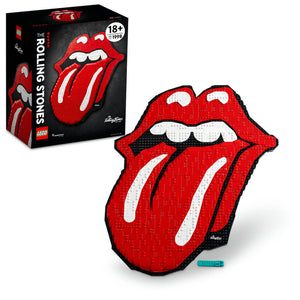 Number 31206
Ages 18+
1,998 pieces
Released 1 July, 2022
Retired 31 December, 2022
RRP $249.99
Get some 'Satisfaction' with a true passion project. In this LEGO Art set, you can relive your favourite memories of The Rolling Stones as you create their iconic logo. While you build, enjoy the focus the Soundtrack fosters as it immerses you in your passion for music and creativity. Once finished, add a Rolling Stones signature tile and display the build with pride on your wall.
Explore your creativity with this LEGO Art The Rolling Stones (31206) kit
Display a detailed art piece of an iconic band logo in your home or office
Celebrate the band's 60th anniversary with a hidden tribute built into the set
Enjoy the Soundtrack as you build, curated with in-depth details about the art
Create a singular piece of art with an organic shape and a hidden surprise
Room decor you can build and then display with pride on a wall
Includes coffee-table-quality printed instructions to guide you in the build
LEGO Art kits offer a building experience for adults to explore their passions
LEGO pieces in this set meet exacting quality standards and work every time
This LEGO Art The Rolling Stones kit meets strict safety standards
Weight: 3.068 kg
EAN: 5702017153988
Box Length: 210 mm
Box Width: 380 mm
Box Height: 322 mm
You might also like